Chick Large Reed Diffuser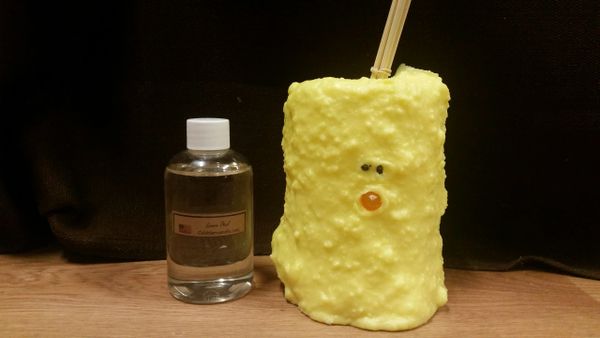 This item is our primitive hand dipped Large Reed Diffuser. A great piece for your mantel, kitchen, or bathroom.
Our Chick face for Easter. This grubby votive is coated in chunky yellow wax with a Lemon Peel scent, and then decorated with peppercorns and a bead to look like a primitive Chick for Easter.
We first pour a pillar with our soy blended wax and our special recipe to allow the liquid of the reed diffuser to not soak into the wax. After everything dries we then hollow out the inside of the pillar. After this is ready we hand dip each pillar into the scented wax that is ordered. This allows for each reed diffuser to give off a light scent without having any liquid in them.
Each of our large reed diffusers include the pillar dipped in your favorite scent, 6 reed straws, and a 4 ounce bottle of reed diffuser oils.
Lemon Peel- This is a very strong and refreshing lemon scent which reminds you of a warm spring day. The color is a bright sunshine yellow.