Cranberry Warmer tart pack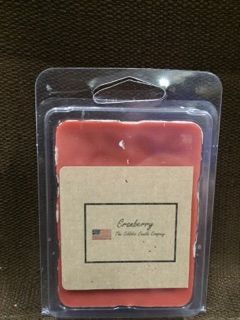 Cranberry- This scent is very sweet smelling and smells just like grandma's cranberry relish on the holiday dinner table. This makes for a fantastic scent for around the kitchen. We color this candle red like pictured above.
Our 2.4 ounce wax melts are made from a soy and paraffin blended wax. Our 2.4 ounce wax melts will burn for 25 to 30 hours. We hand pour every wax melt and they are fully scented all the way to the bottom. We only use the finest ingredients to make our wax melts because we do not feel like average ingredients do our product any good. We want all of our customers to be customers for life and having a wax melt that actually still has its fragrance during the last few hours of burn time is the way that we feel our customers will want to use our wax melts more over our competitors.