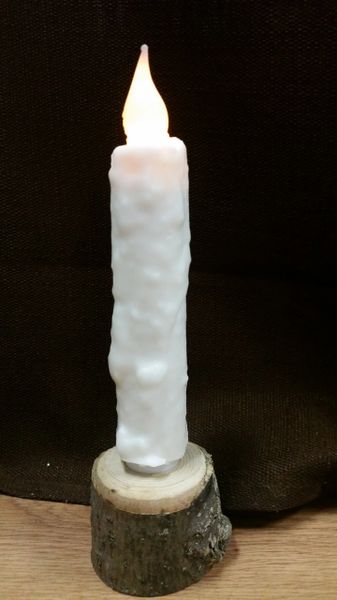 This item is our primitive hand dipped LED taper. An adorable piece for your candle display.
Ho Ho Ho (Candy Cane)- This smells just like your favorite peppermint candy cane. We use this scent to color our LED tapes white.
We first hand dip our LED taper 2 times with only the finest wax mixture that we have come up with. We use a soy and paraffin wax blend so that we can get the colors that paraffin wax can give and the richness of scent and burn time that soy wax provides. We then add any decorations that we feel adds to the appearance of the LED.
Our LED tapers require 2 AA batteries and these last for approximately 300 hours. The LED tapers also have a timer in them. When you turn the taper on it will be on for 6 hours and then turn on every day at the same time going forward. This allows you to simply set them and forget them. They will always come on at the perfect time every day.
Wooden Stand sold separate. $4.99